UN summit in New York hears how resources needed for sustainable energy threaten Indigenous land and people
World Indigenous leaders meeting this week at an annual UN summit have warned that the west's climate strategy risks the exploitation of Indigenous territories, resources and people.
New and emerging threats about the transition to a greener economy, including mineral mining, were at the forefront of debate as hundreds of Indigenous chiefs, presidents, chairmen and delegates gathered at the 22nd United Nations Permanent Forum on Indigenous Issues.
"It is common to hear the expression to 'leave no one behind'. But perhaps those who are leading are not on the right path," the forum's chairman, Dario Mejía Montalvo, told delegates on Monday as the 12-day summit opened in New York in the first full convening since the pandemic outbreak.
The longtime advocacy group, Cultural Survival, in partnership with other organizations, highlighted how mining for minerals such as nickel, lithium, cobalt and copper – the resources needed to support products like electric car batteries – are presenting conflicts in tribal communities in the United States and around the world.
As countries scramble to uphold pledges to keep global warming to 1.5C (2.7F) above pre-industrial levels by 2030, big business and government are latching on to environmentally driven projects such as mineral needs or wind power that are usurping the rights of Indigenous peoples – from the American south-west to the Arctic and the Serengeti in Africa.
Let us not forget that climate is the language of Mother Earth

Dario Mejia Montalvo
Brian Mason, chairman of the Shoshone-Paiute Tribes of the Duck Valley Indian reservation in Nevada said that the 70 or so lithium mining applications targeting Paiute lands have come without free, prior and informed consent – what is considered the cornerstone of the UN Declaration on the Rights of Indigenous Peoples. He described the lithium extraction efforts as being on a "fast track" to supply the Biden administration's net-zero strategy to create a domestic supply of EVs . "It's kinda just being rammed down our throats," he said. "At the cost of Indigenous peoples once again."
During a special panel discussion, Edward Parokwa, executive director of the Pastoralists Indigenous Non-Governmental Organization (Pingo's Forum), said a mass migration has ensued of thousands of Maasai violently displaced from their Tanzania homelands to make way for a luxury game reserve – and under suspicions and fear of mobile phone surveillance by the United Arab Emirates. A UAE-based company is believed to be behind the big game hunting operation. "And it's happening in the name of conservation," Parokwa said, accusing the Tanzanian government of trying to deflect global criticism for the project, particularly ahead of Cop28 UN climate talks slated for later this year in Dubai.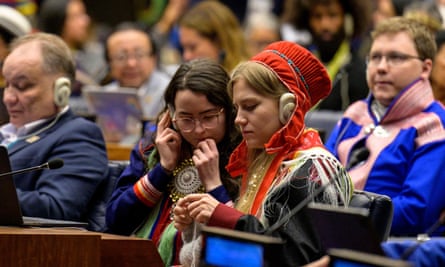 Gunn-Britt Retter of the Saami Council, an organization representing the Sami peoples of Finland, Russia, Norway and Sweden, said she had been raising awareness about what she calls the "green colonialism" driving harmful sustainability projects on Sami and Indigenous lands. The most recent example has been the Fosen onshore windfarm that was built despite a supreme court ruling in Norway in defense of Sami reindeer herding grounds.
"They look to us to carry the heaviest burden and it's a disproportionate part of the burden," she said of Indigenous peoples caught in the middle of a climate conundrum. "We need to reduce CO2 emissions globally, and we need to seek alternative energy sources, but we also need to protect the Indigenous cultures because we are the guardians of nature, which is part of the solution."
Mejía Montalvo, who belongs to the Zenú peoples of San Andrés Sotavento in Colombia, said global climate talks have failed to properly include Indigenous peoples, yet at the same time, such dialogue has relied on a well of Indigenous knowledge systems to imagine future climate goals. "The issue of climate change and biodiversity cannot be resolved without the real and effective participation of Indigenous peoples."
He urged the 193 member states affiliated with the UN, as well as its international governing bodies, to set a quota for actions that guarantee Indigenous peoples can take part in decisions affecting our planet, and in a way that puts them "on equal footing" with states – meaning, voting power, which Indigenous peoples lack.
The most recent example of the disparity came last fall in the historic "loss and damage" fund for vulnerable countries reached at Cop27 in Egypt. Indigenous peoples lacked explicit reference in the agreement, despite many world leaders, including the US president, Joe Biden, acknowledging the importance of Indigenous peoples in mitigating and adapting to climate change.
But there has been progress. The rights-based Paris agreement within the UN Framework Convention on Climate Change (UNFCCC) – the environmental treaty to combat the climate crisis – has provided a rare opportunity for formal Indigenous participation in the creation of the Local Communities and Indigenous Peoples' Platform (LCIPP). The constituent body held its first meeting as a recognized working group in 2019, and engaged in dialogue with the Cop presidency last year in Sharm El-Sheikh.
Of the short cast of international leaders who spoke at the start of the global event on Monday was the first ever appearance by a UN secretary general, António Guterres, at a permanent forum opening ceremony. Also present was Deb Haaland, US interior secretary and tribal citizen of the Pueblo of Laguna, who received a standing ovation following her remarks where she acknowledged a litany of historic injustices against Indigenous peoples and a collective need to heal, saying Indigenous peoples must be brought into the fold in global human rights decision-making.
Lahela Mattos of Ka'Lāhui Hawai'i and a representative of the Global Indigenous Youth Caucus, urged the permanent forum chair to work with UN agencies like the World Health Organization to develop and implement comprehensive policies to better protect the safety of Indigenous women and girls as a way to protect the planet. "The destruction of and violence committed against our Earth Mother perpetuates, violence against Indigenous peoples, specifically Indigenous women who are protectors and bearers of life on this planet."
The recommendation regarding "environmental violence" on Indigenous women and girls was first featured in a recent human rights treaty body outcome and represents one of the first fundamental links between human rights abuses and environmental catastrophe – a connection that most stakeholders grappling with the climate crisis have yet to make.
"Let us not forget that climate is the language of Mother Earth," said Mejía Montalvo.