In the United States and Canada, Native citizens can point to long-held treaty rights as attempted recourse against encroaching fossil fuel projects. Such is the case with the Great Lakes tribes that oppose Canadian company Enbridge's Line 5 pipeline in Michigan and Line 3 in Minnesota.
However, there is no such recourse available for Indigenous people of Siberia, who face similar challenges many thousands of miles away.
"If [this] happened in Russia, I know that we would go just directly to jail," said Stanislav (Saas) Ksenofontov, gesturing to the large gathering of tribal citizens who were gathered in northern Michigan on Saturday to protest Line 5.
Water protectors and supporters, Ksenofontov among them, had just marched several miles through the streets of Mackinaw City to arrive at Conkling Park near the waters of the Straits. Speakers from Michigan, Canada and beyond spoke about the dangers of fossil fuels and the importance of protecting the earth from companies that value profit over life.
That kind of public Indigenous resistance against extractive industries "is not possible" in Russia, Ksenofontov told the Advance. "… I see this, and I'm just amazed."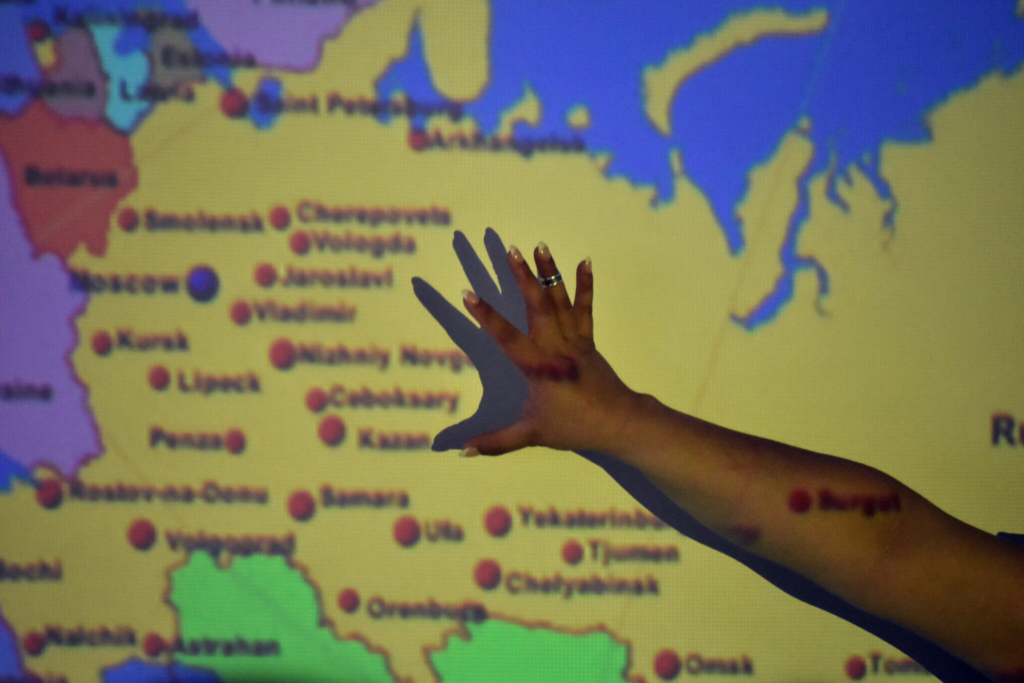 Extractive industries disproportionately harm Indigenous lands, and Native peoples are often among the first to experience the effects of climate change. Oil pipelines in Russia, including the Druzhba pipeline that is the world's longest, are expansive and crisscross many Indigenous territories.
Russia's Indigenous peoples inhabit roughly two-thirds of the country's territory, yet very few have any land or treaty rights. Those that do are provided with very limited benefits.
The ability to protest is also severely limited in Russia, something that's in the international spotlight as the authoritarian government is cracking down on demonstrators opposing Russia's invasion of Ukraine.
"I was thinking today, walking from the church to this square … [In Russia,] there is a law banning to gather more than five people. So we cannot protest, we cannot march. It's not allowed.
"It's not allowed to criticize government. We will be just jailed," Ksenofontov said.
Ksenofontov was one of several Indigenous Siberians to speak and perform at the Heart of the Turtle gathering over the weekend. The Michigan-based water protector group MackinawOde organized the events to commemorate the one-year anniversary of the state's attempted Line 5 "eviction."
Enbridge has been considered an international trespasser in the Straits by the state of Michigan since May 13, 2021. Democratic Gov. Gretchen Whitmer had ordered months before that the company cease oil transport through Line 5 by that date; instead, Enbridge refused and filed a federal lawsuit to challenge the state's ability to shut down the pipeline.
That lawsuit remains pending as a federal judge deliberates.
"All these companies should just leave the sacred lands, shouldn't destroy ecosystems and traditional practices," Ksenofontov said of Enbridge. "Fortunately, people resist here, people protest, it's really amazing. Unfortunately, we cannot do that in our situation because it's dangerous, it's prohibited."
Tribal citizens involved in organizing the event in protest of Line 5 first linked up with the Indigenous Siberians in March, where water protectors across the globe converged for an international conference at the University of Minnesota Duluth to speak about resisting pipeline development in Indigenous lands.
Ksenofontov, an Indigenous social scientist from the Sakha Republic (Yakutia) in northeast Siberia, is a postdoctoral researcher at the University of Northern Iowa. He has previously studied in Switzerland and Korea.
Sakha is the largest of Russia's 85 federal subjects and stretches more than one million square miles. The region is rich in minerals like diamond, gold and coal.
Only 40 of Russia's 160 distinct peoples are officially recognized by the government as Indigenous, as Russia dictates that they must be composed of less than 50,000 members.
"Since my nation is … more than 50,000, we are not 'Indigenous' and we are not recognized by the government. So we have no rights to land, we have limited rights to hunting and fishing," Ksenofontov said.
This makes recourse for his people "quite difficult" when faced with issues like deforestation, oil projects and more, he said. A recent struggle in Sakha involves two Russian logging companies that want to take trees from Indigenous land and export them to China.
"These forests are located in a really pristine place, the cleanest river and the endangered animals. It will just be gone if they start to cut trees," Ksenofontov said.
"[The Russian government] … they just steal resources, they just steal money from the people and they never share benefits on the resources. Our region is the richest in Russia. We have gold, oil, gas, diamonds, silver, everything. … Every single element is in our region, and we don't receive anything. We receive just super small amount of benefits from all these resources," he continued.
"They are just filling up their pockets."
Pavel Sulyandziga, an elder of the Udege people in southeast Siberia and one of Russia's most outspoken Indigenous rights activists, has been deeply involved in the struggle against extractive businesses since the 1980s.
"The government of the Russian federation and president [Vladimir Putin], they do not respect Indigenous peoples' rights," Sulyandziga said in his native language on Saturday, as translated by University of Northern Iowa professor Andrey Petrov.
The Udege people are natives of the Primorsky Krai and Khabarovsk Krai regions in Russia. Since the 1980s' "Perestroika" movement for reform within the Soviet Union's Communist Party, Sulyandziga has been a leader for his peoples' struggle over traditional Udege territories along the Bikin River.
Those struggles include attempts to fend off deforestation, government-backed jade mining, and projects from oil companies like Shell, Mobil and Exxon.
"The companies would come. They would destroy the environment and that would have an impact on the Indigenous peoples' livelihoods," Sulyandziga said.
Sulyandziga currently chairs the Board of the International Development Fund of Indigenous Peoples in Russia (BATANI). Amid many other prestigious posts related to Indigenous peoples in Siberia, he was also a member of the United Nations (UN) Permanent Forum on Indigenous Issues from 2005 to 2010 and a member/chair of the U.N. Working Group on Business and Human Rights from 2011 to 2018.
In 2017, Sulyandziga visited the Indigenous-led resistance at Standing Rock, N.D., in an unofficial capacity. Activists faced off against law enforcement there to protest against the now-operational Dakota Access Pipeline (DAPL).
He said he came to northern Michigan to stand with water protectors against Line 5 and Line 3 over the weekend "to support Indigenous peoples here to fight against the pipeline."
Sulyandziga faced backlash from the powers that be in Russia for his public fight against businesses threatening Native lands. Fearing potential persecution, he applied for political asylum in the United States in 2017.
"Russia, the Indigenous peoples rights are completely unfollowed, violated, totally violated. They are broken," Sulyandziga said.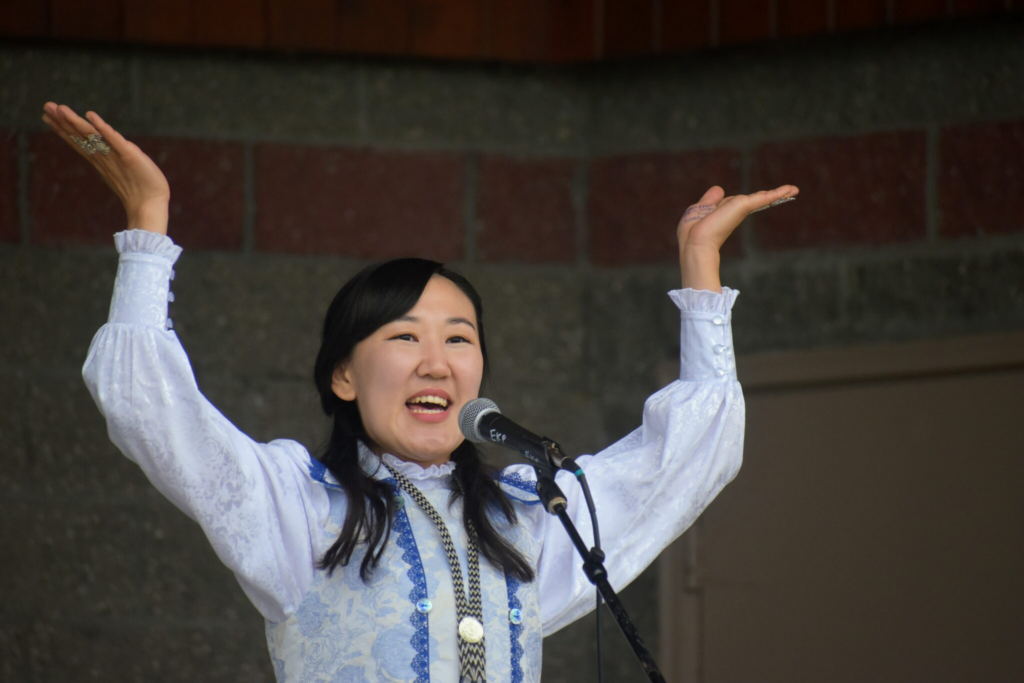 He now resides in Maine as he continues to await asylum status. Sylyandziga says many other tribal leaders from Russia who do similar activism now live in different countries as they, too, seek asylum.
Other Indigenous Siberian speakers at the Heart of the Turtle Gathering included Lena Popova, Tatiana Degai, Varvara Korkina Williams and Viktoria Sharakhmatova.
MackinawOde founder Nathan Wright, a citizen of the Sault Ste. Marie Tribe of Chippewa Indians, said all of the Siberians present at the Line 5 gathering will be returning to northern Michigan in July.
The Siberians will meet then with the Little Traverse Bay Bands of Odawa Indians (LTBB) for a youth-centered gathering to exchange Indigenous knowledge.
"We will share our teachings and they will share theirs," Wright said Tuesday.
All 12 federally recognized tribes in Michigan publicly oppose the Line 5 pipeline and its proposed tunnel-enclosed replacement.