– It's no wonder since that organization is entirely under the Putin government's control, says Indigenous activist Pavel Sulyandziga, who has escaped to the USA.
Russia's largest Indigenous organization, RAIPON (Russia's northern Indigenous people's organization), has declared that it completely supports Vladimir Putin's Ukraine war. In the statement sent to the Russian president it says so:
– The Russian NGO RAIPON supports the intention and actions to save the rights and interests of the inhabitants of Donetsk and Luhansk's people's republics and Russia's interethnic security.
Behind the statement stand 40 Indigenous groups of Russia, including the «Association of Kola Sami», one of the two largest Sámi organizations of the Murmansk region.
DOESN'T REPRESENT INDIGENOUS PEOPLES
– It's not strange that RAIPON supports the war. It's entirely natural for that organization to do so, says the Russian Indigenous activist and RAIPON's former vice president Pavel Sulyandziga.
Sulyandziga, who belongs to the Udege people, escaped from Russia in 2017 and lives now in exile as a refugee in the USA.
He says that since 2013 RAIPON hasn't been an independent Indigenous organization.
– The organization is part of Putin's government and represents the government's interests. The organization has also, since 2013, reported on Russian Indigenous leaders to the police and state security authorities, says Sulyandziga.
SUPPORT UKRAINE
Sulyandziga is among other Indigenous activists who have had to leave Russia and founded a new independent organization of indigenous peoples.
– Russia's Indigenous peoples can't sit still when the Russian leader goes to war against Ukraine and the people of that state.
– We don't support that war and support Ukraine's people that now fight for their state.
– We encourage Russia's Indigenous peoples to refuse to take part in this shameful war, says Sulyandziga
WORSENING THE CONDITIONS
He says that it has been difficult in Russia to work for Indigenous rights for a long time already. However, conditions worsened after Russia went to war with Ukraine in February.
– If you've watched the news, you can hear that Putin recently said that he'd got his eyes on people working together with the Western world. So now it's extremely dangerous to work with Indigenous and human rights.
– It was already difficult, but now it may be life-threatening, says Sulyandziga.
DEMOCRACY IS LIMITED IN RUSSIA
UN Permanent Forum for Indigenous Peoples' leader Anne Nuorgam says that she is worried that Indigenous organizations will get mixed into the war.
– It's frightening because Indigenous peoples live both in Russia and Ukraine. It shows how democracy has been limited in Russia for the last 10-15 years, even if Indigenous rights have been developing, says Nuorgam.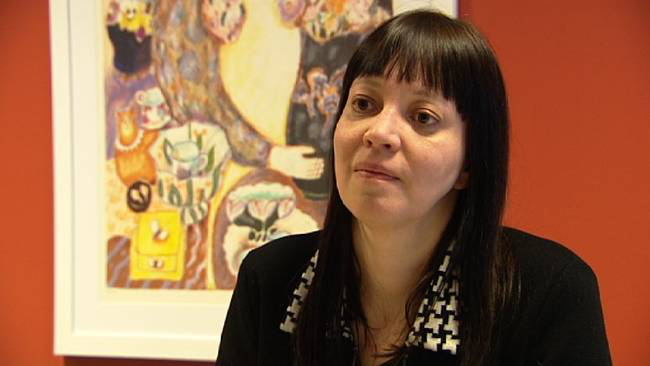 – It also shows how the state can decide over private organizations. So the members must support the state's interests, even if they don't support these issues. It's frightening to see where that has taken us now, says Nuorgam.
Journalists: «How should we understand it when a well-known Indigenous organization supports Putin's war?»
– That's the situation they have. They remain a separate organization when they are not in opposition to the state, neither personally nor the organization in itself. That's their only option. If one looks at it with Western eyes, it's unfortunate because they lose our trust, says Nuorgam.