Congolese workers describe a system of abuse, precarious employment and paltry wages – all to power the green vehicle revolution
The names Tesla, Renault and Volvo mean nothing to Pierre*. He has never heard of an electric car. But as he heads out to work each morning in the bustling, dusty town of Fungurume, in the Democratic Republic of Congo's southern mining belt, he is the first link in a supply chain that is fuelling the electric vehicle revolution and its promise of a decarbonised future.
Pierre is mining for cobalt, one of the world's most sought-after minerals, and a key ingredient in the batteries that power most electric vehicles (EVs).
He says his basic wage is the equivalent of £2.60 ($3.50) a day, but if he works through lunch and puts in hours of overtime, he can make up to about £3.70. Not that lunch is worth waiting for: he claims he is given just two small bread rolls and a carton of juice.
"The salary is very, very small. It gives me a headache … The mine makes so much and we make so little," he says.
If he takes a day off, he says money is deducted from his wages. If he is sick and misses more than two days in a month, more money is cut. "You can't even argue. If you do, you'll be fired," he says, squatting on the dirt floor of the bare brick shack he rents.
"The relationship between us and the [mine] is like a slave and a master," says Pierre.
Stories of the harsh and dangerous working conditions endured by miners in the DRC's informal, or artisanal, cobalt mines – of child labour and miners being buried alive as tunnels cave in – have provoked an international outcry in recent years, forcing the western technology and automotive brands that rely on the mineral to look for ways to source "clean" cobalt, free from human rights abuses.
Some companies in the cobalt supply chain have promised to stop sourcing from artisanal mines and instead get the mineral from large-scale industrial mines, which are seen as a safer option both for workers and corporate reputations.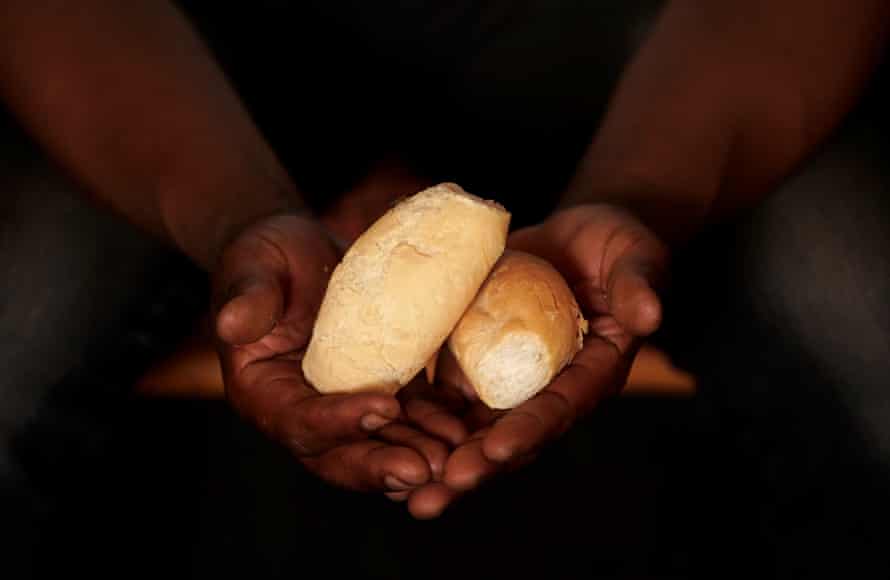 Pierre is not working at an artisanal mine, however. He is employed, via a subcontractor, at Tenke Fungurume mine (TFM), one of the country's biggest industrial mines, which is 80% owned by the Chinese company China Molybdenum(CMOC).
An investigation by the Guardian has found that some workers, often employed through subcontractors, allege they are victims of severe exploitation, including wages as low as 30p an hour, precarious employment with no contracts, and paltry food rations. In a number of mines run by Chinese companies, workers made allegations of discrimination and racism reminiscent of the colonial era.
The Guardian has tracked the cobalt supply chain from TFM and other industrial mines through a number of refiners and battery makers to some of the world's leading electric car manufacturers, including Tesla, VW, Volvo, Renault and Mercedes-Benz .
It's a shocking situation, but I can't leave the job because there is no other choice. Where can I get another job?
While the cobalt supply chain is highly complex, all these car manufacturers identified by the Guardian can be linked to one or more of the industrial mines named by the Guardian through a small number of key refineries and battery makers.
Many EV brands have made public commitments to "responsible sourcing" of minerals, and some – notably Tesla – are using innovative ways to achieve this. Nevertheless, the Guardian's findings suggest how far the sector still has to go to ensure the shift to clean energy is not tainted by claims of workers' rights abuses.
As delegates meet at Cop26, the UN climate change conference in Glasgow, the transition from petrol to EVs is being talked about as a key step in reducing carbon emissions. Global sales of passenger EVs – excluding hybrids – are expected to soar from 3.3m in 2021 to 66m in 2040. In the UK, that growth will be driven by the government's ban on the sale of petrol and diesel cars from 2030.
Last year, about 70% of the world's cobalt came from the DRC and the vast majority of that – 93,000 out of 100,000 tonnes, according to Benchmark Mineral Intelligence (BMI) – came from large-scale industrial mines.
Although some battery and car manufacturers have reduced the amount of cobalt in their batteries, BMI says the volume of sales of cobalt into the sector will rise four or fivefold over the coming decade. The World Bank estimates that demand for cobalt production will increase 585% by 2050.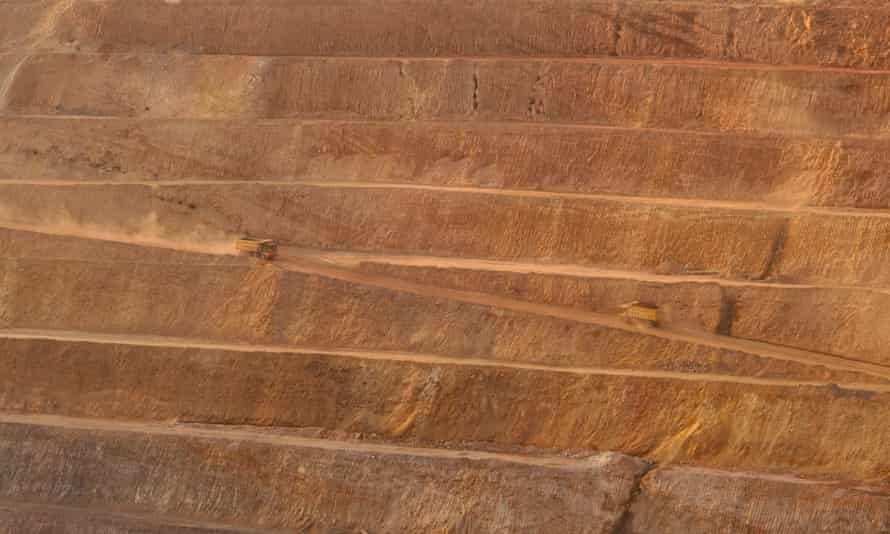 That should be good news for people in southern DRC, where the majority of the cobalt mines are located, but a report launched today by UK-based corporate watchdog Raid and Congolese lawyers from the Centre d'Aide Juridico-Judiciaire, says many multinational mining companies – and the subcontractors they hire – create poorly paid jobs that keep workers in poverty.
"Cobalt is an essential mineral for the green transition, but we must not turn away from the abusive labour conditions that taint the lithium-ion batteries needed for millions of electric vehicles," said Raid director Anneke Van Woudenberg
Kolwezi is the DRC's cobalt capital, a city so defined by mining that some communities sit on the rim of the giant craters that have been excavated in search of copper and cobalt. It is mining on a massive scale, highly mechanised and dependent on cutting-edge technology but powered by thousands of workers – more than 10,000 at TFM – who, like Pierre, are employed as mineral processors, drivers, mechanics, welders, security guards and general workers.
In the last 15 years, Chinese companies have begun to enter the mining business, buying out North American and European companies so that they now control the majority of the cobalt and copper mines in southern DRC. And with this change, Congolese workers say, has come abuse, discrimination and racism. They say they are insulted, in some cases beaten, and claim they are paid less than Chinese workers who do the same job. They allege that Chinese supervisors disregard their experience and put production before safety.
"We're being treated in a very bad way by the Chinese. I'm a victim of assault myself. I was slapped across the face four times," says Mutamba, another worker at TFM.
One Congolese worker at TFM described sitting through a two-hour meeting in Chinese, only to be given a two-minute translation at the end.
"We feel humiliated and embarrassed," he says. "The way they are treating our people, you can't believe. We are just expecting them to have respect for human life, instead of using people like slaves."
Over the course of the investigation, workers interviewed by the Guardian said they deeply resented the way they were treated, but felt powerless to protest. "It's a shocking situation, but I can't leave the job because there is no other choice," says one. "Where can I get another job?"
A spokesperson for CMOC, which majority owns TFM, said the company adheres to a number of international labour conventions and local labour laws. Since it acquired the mine in 2016, CMOC said it has contributed an average of £296m a year to the country's revenue. "We are devoted to providing a safe, healthy and decent work environment to all employees and attach great importance to protecting the rights of employees," the spokesperson said.
Mining for cobalt and copper is a vital source of income for DRC's government and creates tens of thousands of jobs – with good wages for many – in a region with few other employment opportunities. But in some mines the majority of workers – almost 70% at TFM, for example – are hired through sub-contractors.
The use of subcontractors can leave workers in an extremely precarious position: often hired on short-term contracts, or no contract at all, with limited benefits, low pay and the threat of termination always hanging over them.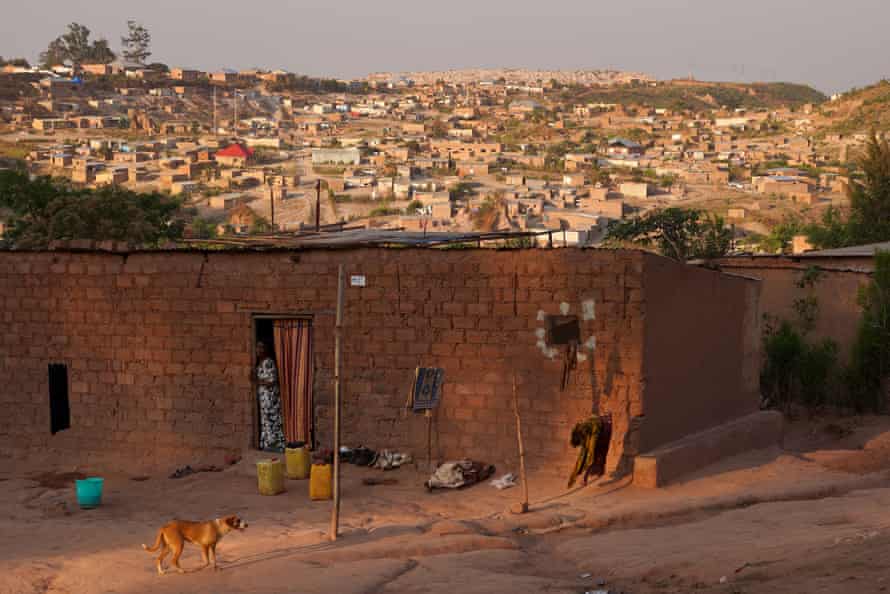 Josué Kashal, a lawyer for Centre d'Aide Juridico-Judiciaire, a local organisation that represents miners, says the use of subcontractors can lead to the big mines being able to avoid accountability.
In his small office in Kolwezi, Kashal shows the Guardian a list of what he claims are more than 50 subcontractors that have been used by the Kamoto Copper Company (KCC) mine, which is owned by the Swiss commodities and mining giant Glencore.
"Glencore is using many subcontracted workers, so employees depend on the subcontractor, not Glencore. This way they don't have responsibility and can end a contract at any time," says Kashal.
While some workers said they hoped to get hired directly by KCC, saying it offered better wages than other mines, 44% of KCC's workers are employed through sub-contractors. The price is paid by men like Luc. "I started on £80 a month while working as a security guard at KCC. Then KCC terminated the contract with the subcontractor and I suddenly lost my job, along with 600 other guards," he says.
Luc was recently rehired by another security firm at the mine, but says he is still earning less than £140 a month. "The main companies are treating the subcontractors well, but the subcontractors don't treat workers well. The mining companies are benefitting a lot, not the local people," he says.
Glencore said KCC only uses sub-contractors for specialist work or temporary contracts and monitors compliance with the terms of its contracts. "In 2021, KCC became aware that employees of a global contractor company, whose contract ceased due to the reduction of project activities during the Covid-19 pandemic, did not receive their wages to the end of their employment term. In this instance, KCC engaged with the contractor … and the employees received the correct payment," a spokesperson said.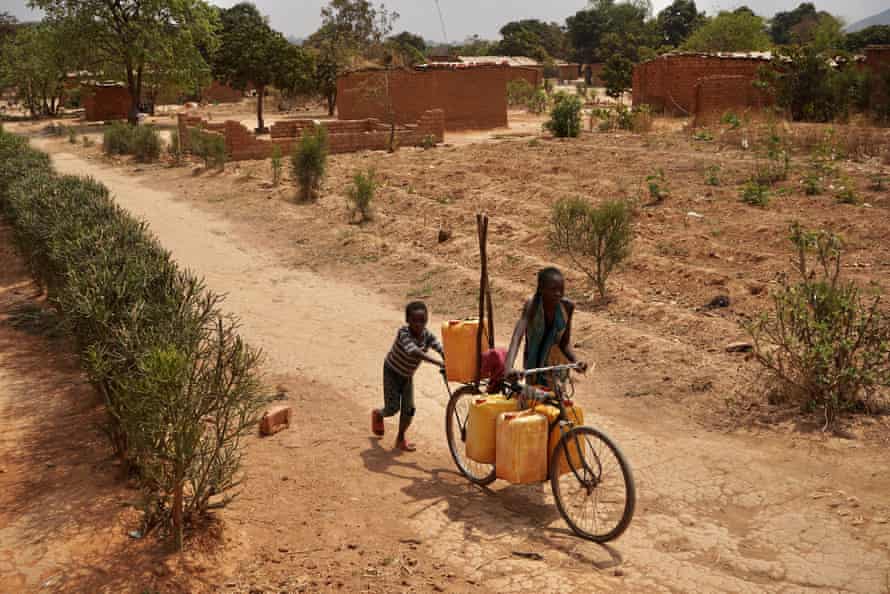 In June 2020, Tesla signed a long-term deal to source cobalt from Glencore for its new "giga-factories" in Berlin and Shanghai. Tesla did not respond to multiple requests for comment, but in its latest impact report, the company says it procures cobalt only from producers in the DRC that meet its responsible sourcing standards. To avoid its material being "contaminated" by cobalt from other sources as it passes along the supply chain, it is "stored in clearly marked, segregated areas of the plant and is toll processed on lines dedicated for Tesla", the report says. Two mineral experts told the Guardian this process is likely to be rigorous.
There is no drinking water, no electricity, no school, no health care. Our community is right next to CDM, but they don't do anything for us.
Covid has compounded the already poor labour conditions endured by many workers. The community of Kawama stretches along one side of the main road south of Lubumbashi. On the other side stands the Congo Dongfang International Mining (CDM) mine and refinery.
When the pandemic started, many CDM workers were confined to the mine for three months until the Congolese government compelled the company to release them. Koffi, who worked at the mine as a security guard, told the Guardian he shared a hall with 80 others, with two workers sharing a mattress laid on a wooden board and propped up on bricks. "I felt like a prisoner. I didn't have any freedom," he says.
In interviews with the Guardian, some CDM workers say they are employed for as little as £88 a month. "Payslips" seen by the Guardian were written only in Chinese on a pencil-thin strip of paper.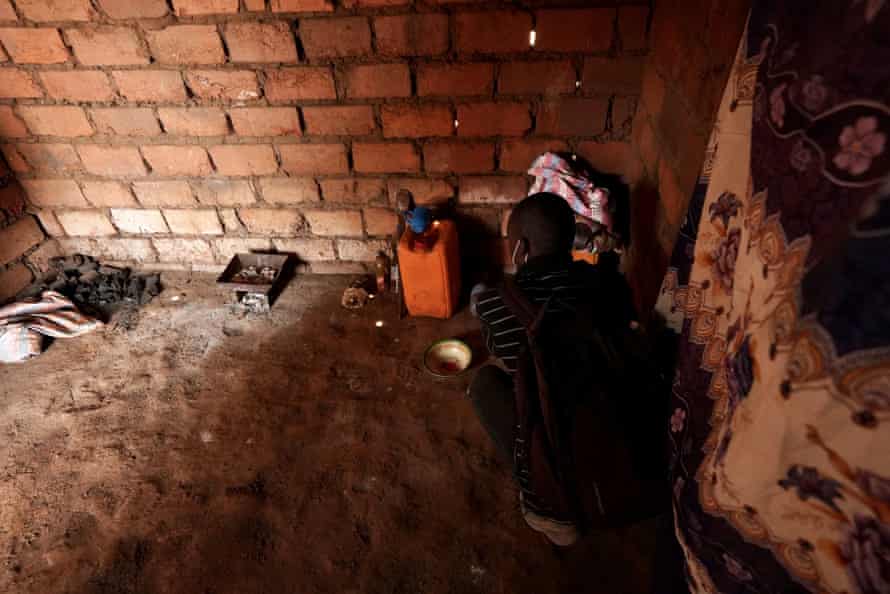 CDM is wholly owned by Huayou Cobalt, a Chinese conglomerate with interests in every step of the cobalt supply chain, from mining to cathode production. Renault and Daimler, the parent company of Mercedes-Benz, name CDM among their suppliers.
Huayou Cobalt said CDM "adopted a policy of healthy and safe operation" at the outbreak of the coronavirus pandemic until the government put forward its own pandemic prevention policies. It said all workers were paid in line with local labour laws. CDM has made significant contributions to the local community, Huayou Cobalt said, including organising agricultural education, building and renovating schools, setting up medical clinics and providing water and electricity to local villages.
But there appears to be little sign of that in Kawama, a collection of red brick shacks with corrugated iron roofs held down by rocks. A woman heaves a bicycle laden with yellow water drums along a dry dirt track, a young boy helping to push from behind.
"There is no drinking water, no electricity, no school, no healthcare," claims Koffi. "Our community is right next to CDM, but they don't do anything for us."
Renault, Volvo VW and Daimler, the parent company of Mercedes-Benz, responded saying they recognised the importance of responsible mineral sourcing, took the allegations seriously and would discuss the findings with their suppliers.
*All names have been changed